Every week a new theme encourages campers to explore and learn, all while having FUN! The kids stay active, whether going on the regular field trips or staying in-house enjoying activities and games led by our awesome Staff! Summer Camp is for children entering Kindergarten through rising 6th graders.         
 JC – Junior Campers    SC – Senior Campers
June 15-19: Island Fun! Let's kick off the summer and party like we're in the Islands! The school will enjoy a giant inflatable water slide to kick off the summer. JC will relax at a movie followed by a picnic in a park, SC will play Monster Mini Golf, and both groups will swim at Volcano Island. And did we mention a beach party?
June 22-26:  Fun on the Farm! Master Gardeners visit the school to teach us about dirt and worms and to help us get our hands dirty! JC will play at Temple Hall Farm and explore the Heritage Farm Museum. SC will play at Ticonderoga Farm on their farm-themed attractions, and will visit JK Community Farm, a real working farm where they will enjoy a tour and will get to lend a hand in planting and harvesting crops used to stock our local food banks.
June 29-July 2: Incredibly Fun Animals! The week kicks off with a visit from two K-9 officers from the Loudoun County Sheriff's Office trained in explosive detection! JC will visit Leesburg Animal Park to visit interesting critters up close and will also head to Franklin Park for a picnic and to play on the playground. SC will set out for Roer's Zoofari in Reston and will also take a dip in the Franklin Park Pool.
July 6-10: Constructing Fun! This week is all about building and constructing using materials from cardboard boxes to food and Lego bricks! MakerSmiths will welcome both JC and SC into their MakerSpace to build a project followed by some time spent playing at Hamilton Park with a picnic lunch. JC will climb and play at an indoor playground, while SC will hop over to Sport Bounce.
July 13-17: Food Fun! Heritage Farm Museum will present "Grandma's Kitchen" to the school, a chance to learn about what kitchen tools were used a generation ago, and then the opportunity for the kids to try their hand at baking up some biscuits! Both JC and SC will visit a pizza restaurant to not only tour the kitchen but also make their own pizzas. A trip to Clemyjontri Park, the top-rated playground in Northern Virginia, is also on the menu!
July 20-24: Fun Discovering and Exploring! This is a week of exploring from the farthest stars in the galaxy to the caverns below us! Dean Alan Magic will visit and present an incredible magic show to start the week! Both groups will enjoy the inflatable Franklin Park Planetarium to explore the stars. JC will travel to the Shenandoah Valley Discovery Museum, and SC will discover the beauty and wonder of Skyline Caverns.
July 27-31: Fun with Art and Creativity! The talent of a One-Man Band comes to entertain the school to kick off this theme! Both JC and SC will visit the movies to enjoy that form of art followed by a trip to Douglass Park for a picnic and some play. Both groups will also try their hand at painting pottery which will then be fired and sent home with the kids for a fun keepsake from the summer.
Aug 3-7: Olympic Fun! Moving our bodies and having fun while we do it is on this week's agenda! JC will enjoy games at Hamilton Park with their teachers and will travel to Monkey Joe's for jumping and climbing entertainment. SC will try out two Olympic sports during the week: trampoline at Atomic Trampoline, and swimming at JayDee's Fun Zone.
Aug 10-14: Fun with Science! The kids will enjoy a visit from Brainiacs for some hands-on science experiments. Both groups will visit Blandy Farm to learn and explore the world around them, with JC learning about Terrific Trees and SC's exploration being For the Birds! A visit to Curiosity Zone is also planned, where the kids don white lab coats and enter a kid-sized lab to experiment with chemical reactions!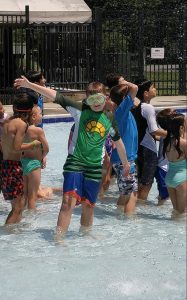 Aug 17-20: Water Week Fun! The giant water slide returns to bookend the summer in water fun! JC will visit the Franklin Park Pool for some more splashing around. SC will visit the AV Symington Center AND Water Mine for double the water week fun!
Aug 24-26: LAST LAZY DAYS OF SUMMER! During these last three days of summer camp, campers will relax, chill, and share their favorite moments about our summer camp experiences. Back to school on Thursday, August 27th.
**NOTE: Field Trips are subject to change.