In order to provide the safest environment possible for our campers, NLC Summer Camp will look different than it has in past years – but our theme "Summer of Fun" still holds true!
To meet CDC and Virginia Department of Social Services requirements and recommendations, we are requiring registration for full weeks only, no partial weeks in order to keep the same small group of children together on a weekly basis. We are also limiting the size of our summer camp classes, and we will have the kids outside as much as possible during the day, utilizing our front field for fun, outdoor activities. At this time, we will not be able to take field trips, however this situation may change later in the summer.
June 15-19: Island Fun! Let's kick off the summer and party like we're in
the Islands! Did we mention a beach party?
June 22-26:  Fun on the Farm! The kids will be happy as pigs in mud this week getting their hands dirty with farming activities!
June 29-July 2: Incredibly Fun Animals! Lions, tigers, and bears, oh m
y! But don't forget about seahorses, kangaroos, ants, lemurs, dogs, aardvarks…..
July 6-10: Constructing Fun! This week is all about building and constructing using materials from cardboard boxes to food and Lego bricks!
July 13-17: Food Fun! What creative foods can we explore this week? From cultural foods to good old dirt cups, food not only fuels our bodies and tastes good, it's fun, too!
July 20-24: Fun Discovering and Exploring! This is a week of exploring from the farthest stars in the galaxy to the caverns below us! From astronauts to deep sea divers, we will be exploring and discovering the world around us!
July 27-31: Fun with Art and Creativity! Painting, sculpting, acting, mosaics, collage…. There is something for everyone this week. Let's let our creativity fly free!
Aug 3-7: Olympic Fun! The Olympics might be delayed, but that doesn't mean we can't use them for inspiration! Moving our bodies and having fun while we do it is on this week's agenda!
Aug 10-14: Fun with Science! Lots of hands-on science experiments are planned for this week. Who's made a volcano before? Or burping bags? Who knows what neat experiments the week will bring!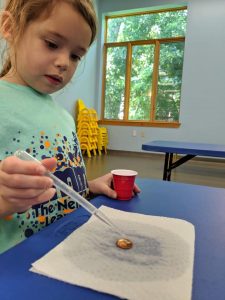 Aug 17-20: Water Week Fun! Let's bookend the summer with water fun! We will be breaking out the water balloons, sprinklers, watering cans…. the kids will be wet and happy this week!
Aug 24-26: LAST LAZY DAYS OF SUMMER! During these last three days of summer camp, campers will relax, chill, and share their favorite moments about our summer camp experiences. We head back to school on Thursday, August 27th.